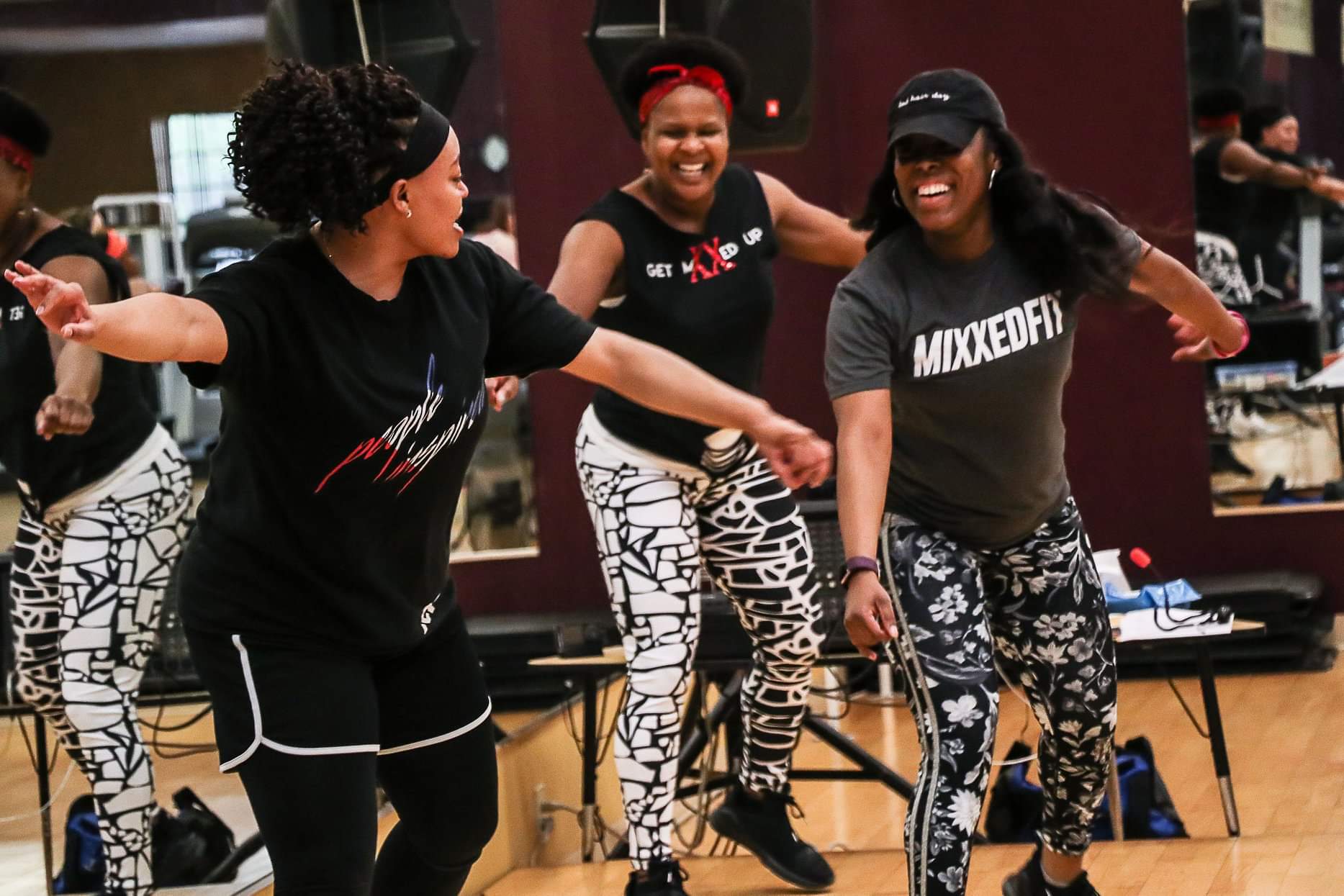 DANCE MIX
A smorgasbord of dance fitness routines. 50's to disco to hip-hop, even Latin and international dance!
Zumba Gold
Everything you love about Zumba ....but at an easier pace and low impact.
DANCE MIX with weights
A smorgasbord of dance fitness routines incorporating light weight sculpting.
Zumba TONING
Dance and tone Latin-style! Use light weights or Zumba toning sticks.
MIXxEDFIT
MixxedFit® is a people-inspired fitness program that combines explosive dance movements with bodyweight toning.
ZUMBA
Hotter than the Mambo on a Saturday night in South Beach! A high-energy workout to Latin/ international rhythms.
BOOT CAMP
Challenging combination of cardio + strength training-- lots of variety and options offered for every fitness level.
CARDIO fusion
An energized mix of aerobics, step, weights, and core. Get ready to sweat!
CIRCUIT
Rotate through high-energy cardio + strengthening exercises. May include kickboxing.
FIT CAMP
A varied cardio workout which may include step, kickboxing, or interval training- Modifications shown for all levels!
hiit & stretch
High intensity interval training completed with a 15 minute full body stretch.
CORE STRENGTH
Targets the torso, including abs and low back, as well as, sculpting hips, thighs, and glutes.
POWER SCULPT
Get ready for an intense muscle training workout. Use a variety of resistance training tools!
STEP
A full hour of step choreography with Lori. Always challenging to the brain and body, always 3 levels shown!

TURBOKICK
Super fun, turbo-charged, kickboxing workout. Kick, punch, and groove your way to fitness.
XTREME HIP HOP
A revamp of traditional step aerobics. With routines set to old and new school hip hop, it makes you want to get up and move while getting a great calorie burn!
POWERSURGE
Strength training combined with cardio bursts and balance challenges.

BARRE fit
Incorporates elements of ballet, Pilates and Yoga. Develops strength, stability and flexibility by working the body symmetrically from head to toe. Modifications for all levels shown.
yoplay
This yoga class is performed while seated or with the aid of a chair. We add props and/or light weights (if desired) as we practice the poses. Come play as it is an all inclusive and non-judgmental exploration of self.
TWILIGHT YOGA
Relax, refresh and renew with gentle, restorative exercises for your body, mind, and spirit.
TAI CHI
This traditional Chinese martial art consists of slow, gentle exercises designed to heal and energize the whole person: mind, body, emotions, and spirit. Proven to lower stress while improving respiration, balance, mobility and strength.
MINDFUL YOGA
This is a meditative mat class that flows with the rhythm of the breath. It promises to leave you feeling challenged, but successful, rejuvenated and relaxed. All levels welcomed.
sit ON YOUR ASANA
Asana is a Sanskrit word that means "pose." This yoga class is performed while seated or with the aid of a chair and is targeted for every "body." Come join us as we connect body, mind and breath. Relaxation and meditation follow.
20 / 20 / 20
Three workouts in one! 20 minutes of cardio, 20 minutes of strength training, and 20 minutes of abdominal work.
EASY DOES IT
A safe, fun introduction to movement. Learn the basics of low impact aerobics at an easier pace.
Silver Circuit
Exciting low-impact mix of movement, strength training and stretching to the beat of oldies.
Silver Sneakers Yoga
A complete series of seated and standing yoga poses designed to increase flexibility, balance, and range of motion. Restorative breathing exercises and final relaxation will promote stress reduction and mental clarity. Suitable for nearly every fitness level.